Details

Category: Uncategorised
Sheeko iyo Shaahid: Baratan Suugaaneed – 2014
Tartankii 7aad
Redsea Culture Foundation iyaga oo ka duulaya fikradda aasaaska u ah ee ah jiritaankooda oo ah inay ka qayb-qaataan wax kasta oo horumarinaya taabbagelinta dhigista, fidinta hiddaha iyo suugaanta; xoojinta fanka iyo farshaxanka; baahinta dhaqanka qorista iyo akhriska iyo gaar ahaan kobcinta qoraalka Af-Soomaaliga, waxa ay maalin gaar ah u qoondeeyeen soo bandhigista go'aammada kulankii toddobaad ee ku baratanka sheeko curinta toolmoon, "Sheeko iyo Shaahid."
Qiimaha sare ee sheekooyinka la soo baratansiiyey, tirada tartameyaasha ka soo qayb galay oo aad u korodhay iyo ku-talagalkii sannadkan ee ahaa dhiirrigelinta hablaha waxa qora awgood, guddiga qabanqaabada Sheeko iyo Shaahid 2014 waxa ay doorbideen in habeen-suugaaneed u gaar ah barmamijkan loo sameeyo oo laga dhex saaro Bandhigga Caalamiga ah ee Buugaagta Hargeysa.
Haddaba intii ka qaybgashay iyo inta jecel dhaqanka qoraalka iyo akhriskaba, waxa la idinku martiqadayaa Xarunta Dhaqanka ee Hargeysa, oo ku dhinaca koonfureed ka xigta Biriishka Maroodi Jeex ee Shacabka Hargeysa, maalinta Khamiista, 21/8/2014, 7:00 Fiidnimo.
Details

Written by

Super User

Category: Uncategorised
Hits: 6598
Day 1: Friday 8th August
Time

Session

Speaker(s)

Chair

9:00 – 10:00

Opening Ceremony

MinisterofEducation,

Hadraawi,

NurruddinFarah,

Jama Musse

Dalmar

10:00 – 11:00

Unpacking Imagination

In this session panellist will discuss the theme of this year's festival from various angles informed by their own personal experiences, and their academic and professional experiences.

Amina Milgo, Sh. Dalmar, Ridwan Osman

Jama Musse

Dalmar

11:00 – 11:30

The Book Fair opens its doors

11:30 – 13:00

Break

13:00 – 14:00

Lunch for the Guests

14:00 – 16:00

Launch of Hargeysa Cultural Center

14:00 – 14:15

Centre Tour

14:15-14:30

Hadrawi announces official opening

14:30 – 15:00

Traditional Dance

15:00 - 15:30

Musical Performance

15:30 – 16:00

Documentary Film Screening
Day 2: Saturday 9th August
Time

Session

Speaker(s)

Chair

8:00 – 10:00

In Conversation with Nurrudin Farah

In this conversation, the author will talk about the theme of the year, but also will share with the public his latest works.

NurrudinFarah

 

10:00 – 10:30

Exhibiting Somaliland

A picture speaks a thousand words; as will be illustrated by the work of prominent photo-journalists, Angela Fisher, Carol Beckwith, Kate Standmore and Yusuf Dahir, who will present a joint exhibition on Africa and Somaliland, past and present.

AngelaFisher,

KateStandmore,

YusufDahir

MustafeSaid

10:30 – 11:00

Screening:ImaginingSocietyThroughtheArts

The artistic department of the HCC will help unleash the creative juices of young artists, writers, painters, actors, dancers, filmmakers to allow them to articulate their fears,  dreams and hopes for themselves and their communities. 

SaidSalah

BarkhadKaariye

11:00 – 12:00

Book Launch – Orchard of Lost Souls

The book is the second novel by Nadifa Mohamed, one of the most promising young British writers. It is an extraordinary story of three women, based in 1988 in Hargeisa.

Nadifa

IimanSheel

12:00 – 12:30

Booksigning

 

 

15:00 – 15:30

The power of the written word

Authors Said Jama and Rashid Shiekh Abudllahi will speak about the power of the written word. They will relate the short story of two columns of books they respectively direct for Redsea Culture Foundation.

SaidJamaand

RashidSheikhAbdilahi

AbdirahmanBarwaqo

15:30 – 16:00

Break

16:00 – 17:00

Book Launch – Maqaddinkii Xeebaha Berri-Soomaal: Taariikh-Nololeedkii Xaaji Sharma'arke Cali Saalax (1776-1861)

AhmedIbrahimAwale

Mohamed Hersi Guleid 

 

Book Launch – "Dheemankii lagu Maamuusay Maydh: Sheekh Isxaaq Ibnu Axmad"

MohamoudAbdiDaud

Mohamed Hersi Guleid 

 

Book Launch -

"Taariikhdii Sheekh Isixaaq"

Cabdirisaaq Caqli

Mohamed Hersi Guleid

17:00 – 18:00

In Conversation with Yusuf Ali Khan

British film director, Yousaf Ali Khan will share his experience as film director, and about his latest projects.

YusufAliKhan

SahraJibril

18:00 – 18:30

In Conversation with Harvey Morris

Harvey Morris has covered revolutions, wars, politics and diplomacy in the Middle East, Europe, Africa, and North and South America in more than 40 years as a full-time journalist. He is the author of three books on the Middle East, including the best-selling Saddam's War.

HarveyMorris

Nimco Jirde

18:30 – 19:00

Break

19:00 - 19:30

Poetry and Short Stories

Educator, playwright and author, Siciid Saalax Axmed will read some excerpts from his "Lix sheeko" collection of short stories: new ideas could be made creatively through the medium of literature, i.e. in prose and poetry, through painting, sculpture, photo or any other audio-visual form.

SaidSalah

Jama Musse

19:30 - 20:00

Poetry Recital

Phyllis will read from her acclaimed poetry book Lilac Uprising. She will also share new poetry written for Somaliland. Over time she has been developing writing that reflects her experiences in Somaliland: her engagement of the people, their culture, and their spirit.

PhyllisMuthani

Sado Mire

20:00 - 20:25

Sitaad

 

 

20:25 - 20:40

Poetryrecital

 

 

20:40 - 21:00

FolkDance

HiddoAcademy

 
Day 3: Sunday 10th August
Time

Session

Speaker(s)

Chair

8:00 – 9:00

Celebrating Edna Adan

HIBF is delighted to celebrate the international recognition for Edna and we have a panel of speakers who will respond to her speech.

Edna Adan
Suleiman

 Guleid,Shukri

Bandera,Ayan

LeeCassenelli

9:00 – 10:00

Conversation with Lee Anderson

Anderson is the author of, among the others, the best-selling and definitive 800 plus page biography of the iconic Marxist revolutionary Che Guevara under the title of "Che Guevara: A Revolutionary Life," first published in 1997. HIBF is delighted to present a collection of his major works on Africa as an international investigative reporter, as well as acclaimed biographer.

LeeAnderson

HusseinBulhan

10:00 – 11:30

Malawi Day

 

Mplive Msiska,

 JohnMpane,

Sombalikagwa,

 NarahMervis

Lungu

AhmedIbrahimAwale,

Chair of Somaliland

WritersAssociation

11:30 – 12:30

Launch of Bulhan's Books

The author of the classic work "Frantz Fanon and the Psychology of Oppression" (1985), Dr. Bulhan worked recently on Somaliland and wrote a trilogy on people, society and history of Somaliland. "Politics of Cain: one hundred years of crises in Somali society", "Loosing art of survival" and "In-between three civilizations. archaeology of forgotten experience and the triple heritage of Somalis" will make focal point of this discussion.

Bulhan

 

MichelaWrong

12:30 – 13:00

Booksigning

 

 

15:00 – 15:30

Curisyo iyo Iswaydaarsi

Seasoned journalist and scholar in the history of Islam, Mahamoud Sh. Dalmar, and writer and linguist and translator Mohamed Hassan "Alto" will present their latest works together. They will share with the audience a collection of journalistic, scientific, social and governance terminologies.

 

Sheekh Dalmar

 andMohamedAlto

Mohamed Hersi Guleid 

15:30 – 16:00

Break

16:00 – 16:30

Book Launch – Presentation of Ahmed Macalin Jaamac'sBook

Rashiid Sheekh Cabdillaahi and Axmed Macallin Jaamac worked together to transcribe, edit and revise Axmed's first book in 2013 "Cadlidoonaha daal Allaa baday: Shirkii Xayawaanka Soomaaliyeed, 1988" (The 1988 Great Assembly of Somali Animals), which is an Orwellian like story where political affairs is narrated through animals.

Rashiid Abdillahi

Cabbaas

16:30 – 17:30

Share your talent: Young people'sperspective

This panel provides an opportunity for emerging artists and poets from different regions of Somaliland to present their work, during which we are pleased to introduce: Readers Clubs and other poets from: Berbera, Boorama,  Burco, Ceerigaabo, Gebiley, Hargeysa, Laascaanood, Shiekh.

 

RidwanOsman

17:30 – 18:20

Book Reading by Chuma Nkolowo

His books include the novel, Diaries of a Dead African [2003], the poetry collections, Memories of Stone [2006] & The Final Testament of a Minor God [2014], and the anthologies, The Ghost of Sani Abacha [2012] & How to Spell Naija in 100 Short Stories (Vol 1.) [2014]. He will read excerpts from his latest work.

Chuma

Sahra

18:20 – 19:00

Break

19:00 – 20:00

Panel on youth, education and employment

Improving employment opportunities for young people requires a broad and concerted effort from all stakeholders. The role  higher institutions is also fundamental. In this panel we will hear voices from all stakeholders, including the youth themselves but also from leaders from some of Somaliland's leading universities.

Omar Ali

Abdillahi,

Abdisalan,
Dr.SaidAhmed,

AdnanHagoog

Khadar

20:00 – 20:30

Poetry reading with Weedhsame

Hassan Dahir Ismail, is perhaps the most famous young poet of the contemporary generations in all the Somali speaking regions. In this session, Weedhsame will read some of his most recent poetry.

Weedhsame

NimcoSamriye

20:30 – 21:30

Music

Prominent vocalists are to sing some of their captivating love songs to the audience accompanied by the musician Abdinaasir Macallin Caydiid

 

Nimco Samriye
Day 4: Monday 11th August
Time

Session

Speaker(s)

Chair

8:00 – 9:30

WritingaboutAfrica

Five noted international panellist will present their perspective on writing on and about Africa. It is a vast continent full of wonderful and stunning contradictions. But, how do Africans and non-Africans write about the continent?

Mpalive,

Chuma,Dr.

Fredrick,

Michela Wrong,

 Lee Anderson

IsmailEinashe

9:30 – 10:30

In conversation with Angela Fisher & Carol Beckwith

American-born Carol Beckwith and Australian Angela Fisher have been documenting Africa for thirty years and have travelled over 270,000 miles through forty countries and encountered more than 150 African cultures. In this session, the two photographers will talk about their experience, expectations and what they imagine about the land, the culture, the people  and in their first time in Somaliland.

AngelaFisher

andCarol

Backwith

IimanSheel

10:30 – 11:30

Book Launch:

'A Somali-Nation State' by Michael Walls

Comments on 'Tackling Development Issues in Somaliland' bylateAhmedIrrobeh

MichaelWalls

Abdirahman

Yusuf Artan

RidwanOsman

11:30 – 12:30

Book Launch: 'War Crimes'

The book exposes how foreign governments and humanitarian agencies conspired to keep Somalia in a permanent state of under development and conflict and how Somali politicians, warlords, clan-based fiefdoms and terrorists benefited from the ensuing chaos and anarchy.

RasnaWarah

Ridwan Osman

15:00 – 15:30

Femalewritersinthemaking

Readings three stories published by three young home grown female writers in Somaliland.

MunaAhmed,

Hamda Hussein

 andNada

Yusuf

YasminMohamedKahin

15:30 – 16:00

Break

16:00 - 17:00

Northern Winds

The Finnish participation to the year's HIBF is being planned with presenters Nura Farah, Amran Mohamed Ahmed and Naima Mohamud and organized in collaboration with by Somaliland Seura.

NuraFarah,AmranMohamed,

Naima

 

RodaHassan

17:00 - 17:30

DocumentaryFilmScreening

Naima

Mohamoud and

 ImanSheel

SOAS Gang

17:30 - 18:20

When two oral cultures meet:

Somaliland and Malawi have many similarities: one of these similarities is the role of oral literature in both cultures: a huge oral literary tradition: proverbs, folktales, tongue-twisters, legends, myths and songs. The two poets will share  their experiences in this panel  and read  some of their poems.

Hadrawi and

 JackMapanje

Mpalive Msiska and Jama Musse

18:20 – 19:00

Break

19:00 – 21:00

Women's poetry and imagination

Female poets based in Somaliland and HIBF female guests will read from their work and engage in a discussion on women's poetry with Elizabeth Spackman and Muna Ahmed.

Elizabeth

Spackman and

 MunaAhmed

MunaAhmed

21:00 - 21:30

Sitaadperformance

 

MunaAhmed
Day 5: Tuesday 12th August
Time

Session

Speaker(s)

Chair

8:00 – 9:30

Imagined Communities in Africa and the Horn

In this panel, artists from different countries of the Horn, along with Graziano Graziani, will discuss on an imagined society means to them and contrast to these reflections with the reality on the ground.

Bulhan,

NorahLungu,

Fredrick,

Graziano

 

John Ryle

9:30 – 10:30

Poetryreading

MpliveMsiska

Chuma

10:30-11:00

BookLaunch

IgiaboScego

SahraKoshin

11:00 – 11:30

BookLaunch

Graziano

Julia Liberatore

11:30 – 12:00

BookLaunch

Muthoni

Garland

Fredrick Galooba

12:00 – 13:00

Culture and Development in Somaliland

Culture shapes individual's worldviews and the ways communities address the changes and challenges that face their societies. The connections between culture and art with development are now recognised internationally. In this session we will argue that investment in culture is major priority for Africa, and in particular for post-conflict countries such as Somaliland.

SadaMire,

Respondent:

David Coulson

Ahmed Ibrahim Awale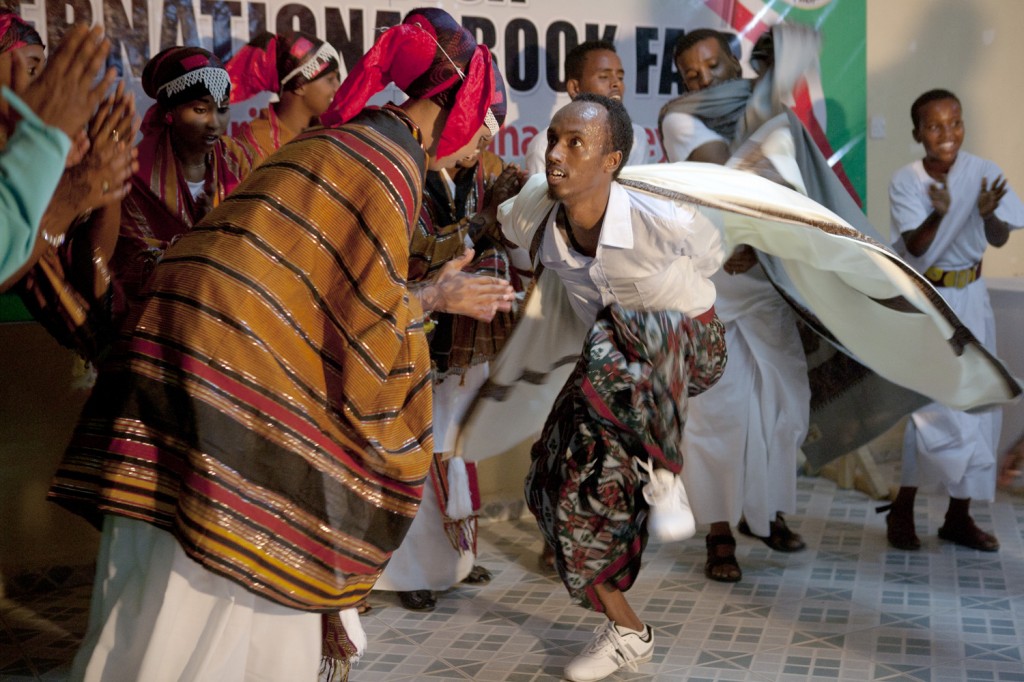 The Redsea Online Cultural Foundation, (RCF) is an organisation based in Somaliland that aims to promote reading and creative writing in Somali speaking society with a particular focus on youth. The organisation gives young people access to world culture by translating internationally renowned classical literature into the Somali language. The Redsea Foundation established the Hargeysa International Book Fair (HIBF) in 2008 and has been a strong advocate for cultural development in Somaliland.  Somalis are traditionally an oral society, and their culture is profoundly animated by the spoken word. The highest art of Somali Culture is poetry, which is typically performed rather than written down. Somalis have a long and proud history as a nation of storytellers and poets but, as a result of decades of war and environmental damage is now what would be identified as 'a zone of silence'. Governmental infrastructure is inadequate for the urgent tasks of recovery and reconstruction, as exemplified by the poor educational provision.
The foundation is based on the belief of the importance regarding the preservation of Somali traditional human-created wisdom (literature, indigenous science, traditional games, language and all other forms of art of human expression) in the form of the written word.
The overall objectives of RCF are to:
Support the revival and development of Somali culture
Promote civic engagement, tolerance and democratic values
Promote writing and reading and civic education
Develop literacy and employability, particularly among youth and women
Promote culture as a central pillar of recovery, democracy and development
Facilitate the development of independent print, broadcast and social media
Strengthen the active participation of youth and women in civil society.
Our work is not only confined solely to Hargeysa Book Fair, we have just established the Cultural Centre/ Library, which we will be launching august this year. Our aim is to re-establish Hargeysa as a cultural hub of the Somali-speaking region.
Reclaiming public space for art and culture is crucial in the current post-conflict climate, and vital to the rebuilding of a free and vibrant country.  We will therefore, serve more broadly to increasing readership across the region, and to promote the arts amongst different sectors of Somali society. It will develop artistic talent, and expose Somali culture to the rest of the world, with the aim of prioritising the arts in the future development of the region.
Details

Written by

Super User

Category: Uncategorised
Hits: 9289
Every year the management of the Hargeysa International Book Fair choose a theme to address throughout our multi-cultural event, which also serves to gather all of our disparate activities. Last year's theme was JOURNEY which also featured in our magazine DHAXALREEB; as for this year, we have chosen the theme of the IMAGINATION. Why? Let us say from the outset that although we are so bountifully blessed with such an enormous corpus and cultural wealth, the majority of people living on our planet are still unable to use their IMAGINATION and appreciate the miraculous historical evolution through which humanity has traversed over the past few millennia. Pitiably, most of us are among those the great German poet Goethe defined as 'Any one who cannot draw from the past three thousand years, must be living from hand to mouth.' Amidst the incalculable riches filling the world, there are millions of people over the continents who go hungry and homeless and to whom hand watches, mobile phones, and cars are unthinkable luxuries. We wonder if the well off can really IMAGINE their plight.
 Like memory and intelligence, the IMAGINATION is a natural faculty of the human mind. It is, indeed, one of the most important faculties capable of growth and development and without which our lives would have been rendered dreary and meaningless. We can safely say that almost all the baffling achievements enjoyed by humanity today had but barely a century before been perceived as totally incredible. They have come true thanks to our creative IMAGINATION coupled with the fascinating journeys of scientific explorations that continue to this day.
 Coming back to our main concern, the launching the Hargeysa International Book Fair, we believe that the radical transformation of our people begins with morphing our rich oral tradition into a well-sustained culture, based on reading and writing. This we hold as an essential requisite that would eventually enable our people, mainly the young generation, to have access to the various fields of knowledge and thus keep abreast of their dynamically advancing world and contribute to its on-going development. This measure, as can be seen, definitely entails a long process demanding collective work, dedication, endurance and relentless strife; but first and foremost it requires a creative IMAGINATION. That is why we are always keen to invite likeminded colleagues from the African continent and beyond, particularly those engaged in the field of literature, art and culture in order to cooperate in our common endeavours and exchange experiences beneficial to the progress of our respective societies.
 Realities are stranger than fantasies: Through continual toil, study and knowledge can we harness the wildest dreams of the IMAGINATION into stark realities. The world around us bears witness to this, including the simple mobile phone and computer set linked to the satellite station in outer space. Who would have thought, including even the most optimistically visionary black American, that within a few decades from Martin Luther King's spellbinding address 'I HAVE A DREAM' to the crowds in Washington in 1963, a Barak Obama would be ceremoniously escorted to the White House as the reigning President of the world's most powerful nation on earth, the USA. But having said this, make no mistake that that dream of the great humanist Martin Luther King still remains to be far from being realised. On the contrary, all the ills in his lifetime he so vehemently condemned, are still rife and rampant in his boastful country. Creative IMAGINATION remains nonetheless all- important.
 Moving to a completely different sphere, but maintaining the same dauntless spirit, we can IMAGINE that the unsafe, insecure treacherous wild plains that are today inhabited by hapless Somalis in the God forsaken regions in the Horn of Africa would be, not before long, seething with amazing prosperity inviting millions of tourists the world over, and becoming at the same time the most ideal site for space crafts equipped with all facilities for passengers bound for the other planets of Mars and further afield.
 Likewise, we can also globally IMAGINE our future children being born immunised and totally free from such deadly diseases as malaria, meningitis, leukaemia, aids, cancer etc and enjoying their entire lives to the fullest potential without worrying about ill-health and the scourge of mental impairment and physical deformity.
 So, let our motto for this year 2014 be: 'Set Your Imaginations Free, Higher Still, And Still Higher'.
Details

Category: Uncategorised
Hits: 33592
Welcome to the 7th Hargeysa International Book Fair (HIBF) Staffed by a team of 50 volunteers from Somaliland and abroad. HIBF is the main cultural event in Somaliland and one of the largest public celebrations of books in East Africa.
HIBF brings writers, poets, artists and thinkers from Somaliland and the rest over the world to share and discuss their art and literary productions with the audience. The main aim of the festival is to promote a culture of reading and writing in the country. We aim to enable young people to access a range of cultural heritages; our intention is to stimulate the revival of all forms of art and human expression, including painting, poetry reciting, story-telling, drama composition and of course, writing.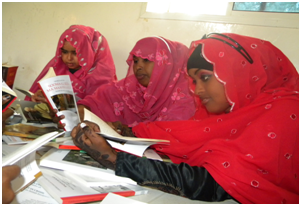 The HIBF is dedicated to preserving the Somali tradition of storytelling and increasing the accessibility of Somali, and world literature to Somaliland youth. HIBF aims to promote a culture of critical thinking and creative writing, to facilitate the habit of reading by making books published by local and international writers available to readers, by partly subsidizing and making the books physically available and affordable at the book fair, to encourage members of the public to browse and buy books, and engage with authors and to inspire young people and the wider society, and facilitate discussion and debates with visiting writers and scholars on different topics
 The ultimate aim of the Book Fair is to stimulate and support a revival of Somali culture and reverse the neglect caused by widespread conflict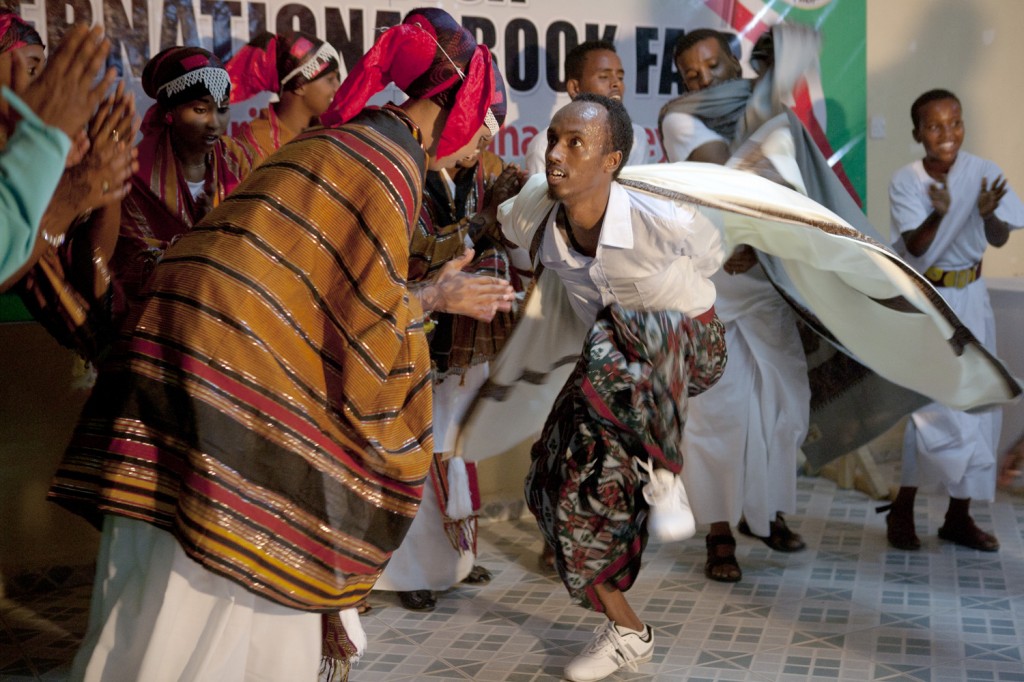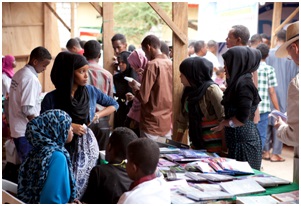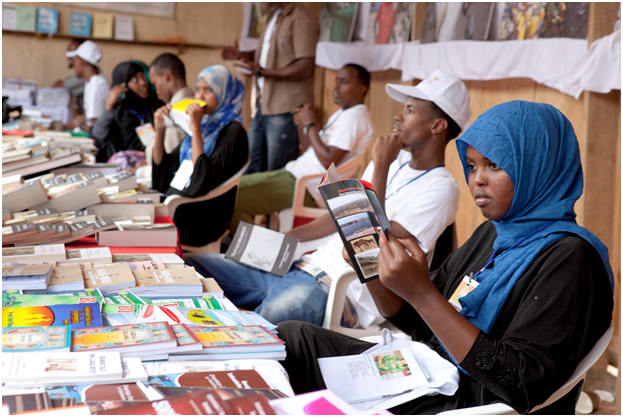 Hargeysa Book Fair will address the combined problems of illiteracy, minimal education and training opportunities as a matter of urgency in Somaliland. The activities of the Fair contribute to transcending cultural boundaries between the Somali speaking society and the rest of the world. The Book fair takes place at the heart of the Hargeysa city (population estimated to 800,000), the capital, between the universities' zone and administrative/ministerial offices area.