Welcome to 9th Hargeysa International Book Fair.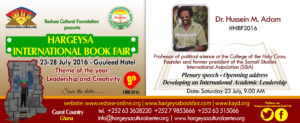 Hargeysa International Book Fair has grown exponentially over the past eight years, both in size and significance. It not only represents the main platform for the arts in Somaliland, but it is now one of the largest public celebrations of literature in East Africa.
This year, the both festival will focus on the theme of "Leadership". Art, Creativity and Leadership for the both festivals, the building blocks of leadership, the image and expectation we have of our leaders and the courage and ability that makes a leader will be discussed.  Do we need leaders, and if so what are the qualities of a good leader? Who are our leaders in the arts, and how can art and creativity shape future leadership? Together we will explore the different types of leadership that impacts and effects us all, including political leadership, social, entrepreneurial and then consider the individual and collective mindset/ understanding of what leadership encompasses.
Join us at Hargeysa Book Fair!