Africa's poet laureate, Professor Niyi Osundare, opened day two of the Hargeysa International Book Fair reading moving and thought-provoking poems titled: I long for open spaces, Airport, Who wants to touch the world and Our Earth will not die. These poems portray the relationship between human existence and space, the significance of space to human emotions, freedom and how they resonate with the work we produce.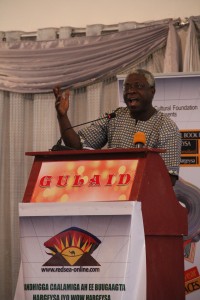 A young woman in the audience, inspired by the depth of creativity in Professor's poems and her inner urge to write, was curious to know whether being a phenomenal writer requires nurturing or simply an innate talent. In response, Professor encouraged young aspiring writers to nurture their talent and to be open to learn from others, pointing to Shakespeare's humility and his interest to learn.
The discussions that followed focused on identifying ways to redress gender-based violence and the failure to achieve the 2015 Millennium Development Goal of gender equality.
Jude Kelly, founder of the Women of the World (WOW), a global movement that advocates for gender equality and protection of the rights of women, and Edna Adan examined notions of gender. They looked at the issues women continue to face in the struggle for equal spaces in society.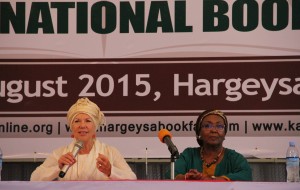 Kelly perceives gender inequality as a global problem and not unique to certain countries. She advocates for a collective responsibility, from both men and women, in ensuring that everyone has an equal space to grow in. Her words, "a better world for women is a better world for men" was a view shared by other panellists in later discussions.
Adan concurred with this too and used her own lived experiences to demonstrate how, in spite of many challenges, it is possible for girls and women to contribute to making their communities better. She encouraged young women in the audience to learn from the Somali women who have defied gender, racial, political and other obstacles to be leaders in their areas and to champion for women rights.
Political participation of women was addressed by a panel of prominent  women in Somaliland politics. H.E. Shukri Bandare, H.E. Sam Sam Abdi, Amina Milgo and Ayan Mahamoud spoke about their political journeys as minorities. Despite the higher female population, there is low political representation of Somaliland women. In order to increase participation, the panellists would like to have political and leadership capacity building for young women in Somaliland and they are pushing for 10% women representation in the Parliamentary Electoral Law.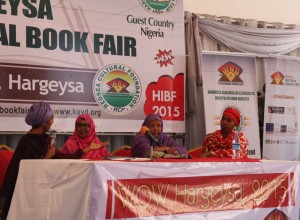 Quman Akli and Hannah Pool engaged in an insightful conversation on the significance of festivals such as HIBF and WOW. Pool considers such festivals as vital spaces for human expression, activism and for local communities to tell their own stories.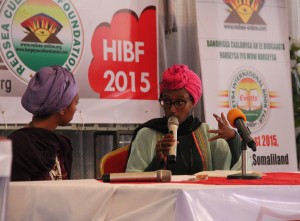 In a day in which female potential and participation was greatly debated, the possibilities that lie ahead for this realisation are immense.