Imagine the horror of an eight-year old watching his mother shot dead before him…imagine the chaos his life is thrown into afterwards…imagine his life as a refugee.
This is the life of Asad Abdullahi, the main character in the novel 'A Man of Good Hope' by South African writer Jonny Steinberg. Steinberg presents this situation, that on the surface might appear like a lone story, but in reality treats major current global issues such as migration, poverty and racism. Expounding on xenophobia, Steinberg says it starts with governments that mistreat minority groups, which gradually feeds into a national psyche. While discussing his book with Zahra Ahmed, he said he found that matters of truth and memory are not always straightforward. In telling someone's story, it is important to stay true to their story.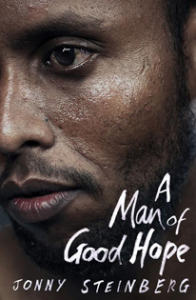 The importance of sharing stories was also seen in other discussions on the fourth day of the festival. Michaela Maria, a German journalist and author of 'Amaal and Sameer', touches on sensitive and often contentious issues of refugees, justice and piracy in her first novel. In a world faced with insecurity, Chuma Nwokolo, like Steinberg, linked the thriving of insecurity to governments that serve narrow interests. While discussing his works with Kenyan writer Ciku Kimeria, Nwokolo reiterated his call for the cultivation of public trust. Kimeria, who is in Hargeysa for the first time, spoke on the danger of social constrictions as she launched her self-published book 'Of Goats and Poisoned Oranges'.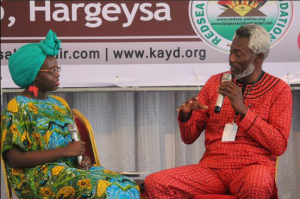 On a day honouring story telling, Said Salah and Maimuna Jallow livened the stage through engaging performances borrowing from the rich oral tradition of Africa. The commitment to keeping oral stories alive is critical, especially for children, as they impart timeless values and lessons remembered for life.
In a search for gender-just peace, Oxfam presented a report titled 'Somali women and peace: Creating conditions for a gender-just peace' written by Dr Siham Rayale. The three main findings of the report were: the need to stop blaming rape survivors, increased integration of women in politics and consideration of the emotional and mental health of men. The audience engaged the panellists in an incisive question and answer session which sort to establish how local solutions could be applied in redressing these issues that have been debated in the course of the week.
The evening ended on a lyrical note with Xasan Xaaji Cabdillaahi "Ganey" presenting from his creative works. Hadraawi, the great poet and songwriter, made an appearance to greet the festival attendees and tip his hat to Ayan Mahamoud and Jama Musse Jama.